Prologue
Just so you don't get the wrong idea, you need to know that Susan and I are not new to international travel, just river cruising. I've been traveling since 1954 and had been around the world on planes and ships including the SS United States before I was 10. I've lived in England, Australia and Japan and traveled for business and pleasure all my life. Susan, my wife, has been traveling with me for over 35 years to the Bahamas, St. Maarten, Puerto Rico, St. Thomas, Mexico, Switzerland, France, Bermuda, and Jamaica. So she too is an experienced and discerning traveler.
We decided to try a Viking Cruise because river cruising impressed us as a leisurely way to travel as opposed to bus or car. It was a moving hotel, providing passing scenery, meals, and stops along the way at destinations offering new things to see and do. If we liked river cruising there were many more cruises we could take. So it was a lifestyle choice and a test not only of a mode of travel, but also of Viking River Cruises in particular. After all, Viking claimed to be "The world's leading river cruise line, by far."® With a tag line boasting world supremacy, I decided to let Viking make all the arrangements including air, airport transfers, and an additional three days in Paris we had opted for before the start of our cruise on October 31, 2010.
I have to tell you I was a bit wary when I received our preliminary itinerary in the mail since I saw that both our flight to Paris and our return flight to Philadelphia involved connections. Outgoing we connected in Washington Dulles with a 1 hour 30 minute window between two United Airlines flights. Knowing how many flights are delayed I called Viking and told them I was concerned that they leave us enough time to make the connection. They assured me it was fine.
I checked the hotel they put us in, the Crowne Plaza Republique. It was in the 11th Arrondisement (District) on Place de al République, not exactly in the heart of the tourist area (good and bad) and there was a Metro station not 50 meters from the hotel's front door. I checked on TripAdvisor and the opinions were overwhelmingly positive. The hotel had been renovated, great breakfast, good location, friendly staff. So I thought OK.
I was a bit on edge prior to leaving home, watching on TV the riots in Paris over legislation to move the retirement age in France from 60 to 62. The bill was in the process of being passed and students were in the streets demonstrating, airport baggage handlers were on strike and gas stations were without gas. Taxis were driving to Belguim to fill up their tanks and returning to France. At least that was the news I was seeing on TV and I was picturing us stuck at the airport without luggage and a way to get to the hotel.
'Relax, it will be OK,' I told myself, not believing it for a second, but I had put our trip in their hands and had to take the ride so to speak. So, when Oct. 24 rolled around, Susan and I were packed and ready. We arrived at the Philadelphia airport on time, checked our luggage and made it through security in plenty of time to have lunch. Our flight didn't leave until 2:40PM so we ate in the utterly forgettable Jet Rock Bar & Grill a short two minute walk from our departure gate. By the time we finished eating and had walked to our gate the flight departure had been pushed to 4PM so we were going to miss our connection. I asked the attendant at the desk about the flight and she told me to sit down and wait for my name to be called. I did, and after what seemed like a long time, she called my name and I learned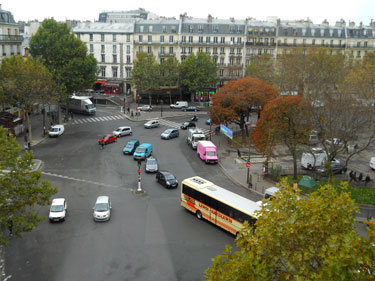 Place de Republique. The view from our 4th floor window of the Crowne Plaza Republique.

that she had already rebooked us on a USAir direct flight Paris. Our bags would be forwarded and all we needed to do was walk about a mile to the airport's international terminals.

Susan can't walk very far or stand for more than two or three minutes without pain forcing her to sit. And marble floors just make things worse. I asked for a wheel chair and we waited for about 15 minutes to be on our way. After wheeling for about 10 minutes, we hitched a ride on a trolly and then hooked up with another wheel chair before arriving at our new departure gate. We were lucky. A direct flight, a better plane with leather seats and new entertainment screens in the headrests - and the flight was practically empty. We had a whole row to ourselves and made it to Paris right around our originally scheduled 6:55AM Paris time arrival. Our luggage had arrived on the plane with us and we met our Viking agent at Terminal 1 gate 22. He was holding up a sign with the Viking logo. He said he was expecting us. I had sent an email while at the Philadelphia airport telling them our new flight number. We loaded our bags and boarded the transfer shuttle. About 45 minutes or so later we were at the hotel. I was first in line. Everyone was milling about in a daze so I just walked up to the reception desk, said "Bonjour" and handed the clerk my Cruise Voucher booklet. Check in time was 3PM. It was just after 9AM. Luckily our room was available. We had been upgraded to a mini-suite on the 4th floor. I don't know why, or what that meant if anything, but we were happy to be able to relax, get washed and settle in after what seemed like an exceptionally long day of travel.

We didn't unpack. Just lay on the beds and exhaled. We were in Paris. We had made it and so had our luggage.