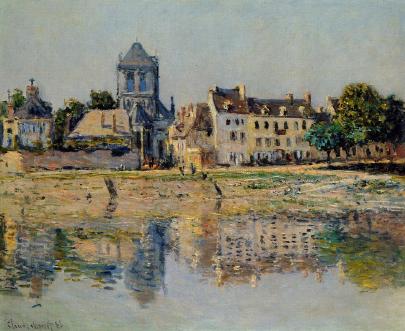 "By the river at Vernon" by Claude Monet, 1883
Vernon
Tuesday Afternoon, November 2, 2010
Mieke takes us on quick tour of Vernon. We started by gathering in front of the town archives. There is a parking area before we enter an old street lined by Tudor style buildings which we learn are actually Norman timbered style buildings influenced by the Vikings who conquered and controlled Normandy. The Tudors took the style from Normandy, after William the Conqueror became king of England. We also learn that there are two reasons why the French drive small cars. Gas is expensive, yes, but also vehicles are taxed by weight. Heavier vehicles, more wear and tear on the roads, more taxes. It makes sense.
We make a circle through the towns center where the shops line the streets. We pass the typical shops where the people by their meat, cheese, bread... all in separate specialty shops. Everything is fresh, made daily or locally sourced. The rabbits are displayed with their heads on so people know they are fresh by checking their eyes. We stop in front of city hall which is opposite the local Notre Dame church. We are left on our own with about and hour and a half before it is suggested that we return to the boat.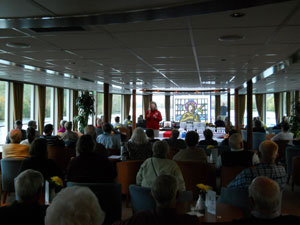 Mieke gives a lecture on the life and death of Jeanne d'Arc
(Joan of Arc) and her importance in French history.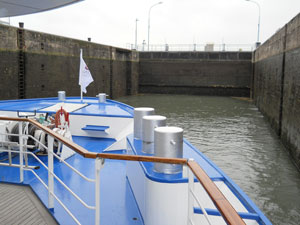 One of the locks between Vernon and Rouen.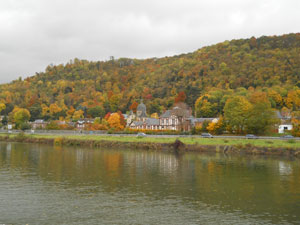 Scenery approaching Rouen. There is still color on the trees in early November.

We, along with Bill and Susan from New Orleans, decide to visit the Vernon Museum of Impressionist Art which we passed earlier on our tour. Not very impressive. The collection is very limited and nothing of real note, but what would you expect in a small town like Vernon. Although it is just 4km from Giverny and Monet painted several landscapes of the town, they aren't in a position to have a collection of Monet's paintings.

After some time for reflection, I realized that or stop in Vernon was just a convenient logistical decision. There is really no reason to stop other than the fact that it is close to Auvers sur Oise and mid way between Paris and Rouen our next stop.

We return to the boat for cocktails with Bill and Susan and we decide to have dinner together. In order to secure a table for the four of us I leave the lounge at about 6:50PM and get in line at the door to the dining room. I am not alone. Open seating is great unless you want to choose your company. So the dinner line up becomes a daily ritual. We find that we are beaucoup simpatico with Bill and Susan. We have different politics, live in different part of America, have nothing in common businesswise, but we enjoy each others company very much, make each other laugh and are never at a loss for conversation. As it turns out we are close in age... younger than the average cruiser on the Viking Spirit and we are all Viking Virgins (pronounced Wiking Wergins). They too missed a their flight connection getting to Paris, but they had real problems getting on another plane, but that is another story. Still no votes for allowing Viking to book the air portion of the cruise package.

Looking back, at this point of the cruise I have to say that the food was not memorable. Nothing stands out really. I can't remember much about what was served for lunch or dinner. We didn't go hungry and we were served multi-course meals, but I can't remember beyond fish, veal, etc. Breakfast was a buffet and you can order an omelette to order at the table. We did discover that they had champagne tucked away in a bucket of ice right next to the juice bar. It suspect it was there to make your own mimosas, but with the flutes available I took to pouring champagne in the morning which vexed Bill a bit since he had gone for the beverage package to the tune of 150 euros each. The beverage package covered all of your drinks in the lounge and at dinner for the entire cruise. Some premium brands were excluded, but for the most part you could get pretty well toasted on the package and avoid running up a tab. Trouble with the package was that if you were traveling as a couple you had to buy two packages. So Bill paid 300 euros for the package and here we were getting free wine with dinner, free champagne for breakfast and the drinks for the most part were cheap. I did the math before we flew to Paris and decided that Susan and I would go a la cárte on the booze. We aren't drinkers and couldn't run up a 300 euro tab if we tried. Our bar bill ended up being around 60 euros so I made the right call, but there shouldn't even have been a question. The cruise should have been all inclusive at the prices they charge. No question, the drinks should have been free.

Wednesday, November 3
At about 6AM we get underway to Rouen. Ater breakfast, Mieke, the cruise director, gives a talk on Jean d'Arc in the lounge. We will visit the spot where she was tried and later burned at the stake in Rouen. At 10AM their is a tasting of oniontarte and cider in the lounge, then a tour of the wheelhouse followed by lunch.

Cruising during the day gives an opportunity to see some of the autumn scenery and experience going through a lock which was a new experience. We arrive in Rouen at about 1PM.