Normandy Beaches
Thursday, November 4, 2010
We left the Cemetery and Memorial and headed down to Omaha beach. We took sand from the beach in a water bottle. We took photos, but it was difficult to frame a shot without people in them. This was another reminder that bus trips are not designed for individual experiences. They are definitely shared experiences and your fellow travelers invariably end up in your photos, like it or not.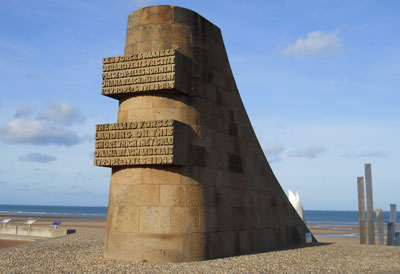 After about 20 minutes or so we were packed back into the waiting buses and on our way to Pointe du Hoc. Omaha beach is at Crepon, a resort town with beach bungalows which are rented for the season. That said, as we drove out of town we saw WWII equipment still there as reminders of the battle at the beach.
Last stop is Pointe du Hoc and the Ranger Memorial. Pointe du Hoc was considered by the Germans to be unassailable from the beach due to its steep cliffs that gave them a commanding view of Utah beach (west) and Omaha beach to the East and their long range artillery that they could use to fire on both.
The Allies decided it had to be taken and the job was undertaken by three companies of the 2nd Ranger Battalion. Their attack is dramatized in the movie The Longest Day. 225 Rangers scaled the cliffs and captured them. By the end of the day 90 remained. The 30-acre battlefield, pockmarked by craters from the pre-invasion bombardment is maintained by the American Battle Monuments Commission.
Hallowed ground it is...a place where more than 130 American Rangers died on D-Day...and another photo opportunity. It was extremely windy on top of that cliff and I found myself wondering if it was like this in June of 1944. The battle must have been horrific and I couldn't imagine climbing those cliffs under fire from the Germans. Those Rangers were beyond amazing.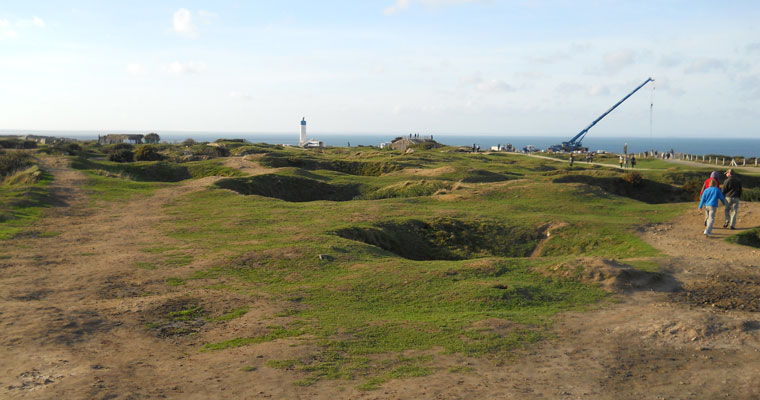 The craters from artillery shells will remain here at Pointe du Hoc as long as the land remains, quiet reminders of the hell that played out here on D-Day.
Back on the bus and about two hours or so later we arrive back in Rouen for cocktail hour, dinner and then we begin our cruise back to Vernon and Paris.